Donors Rally for Griz Esports
You may have heard of the global phenomenon of organized, competitive video gaming known as esports. The sport is like any other competitive athletic endeavor, but at the University Montana, it's about much more than winning and losing.
"Foundationally, it's about community," said Michael Cassens, founding director of the Griz esports program and an associate professor in the School of Visual and Media Arts. "What I love about it is that everybody can play. Age, gender, if you're living with a disability — it doesn't matter."
Whether they play for fun or aspire to compete interscholastically, more than 250 members make up the team. And despite — or because of — its focus on community over competition, the team is finding success.
In March, the Grizzly esports Rocket League team won the Big Sky conference title (Rocket League is a video game played by two teams of three players driving cars in a soccer-like match).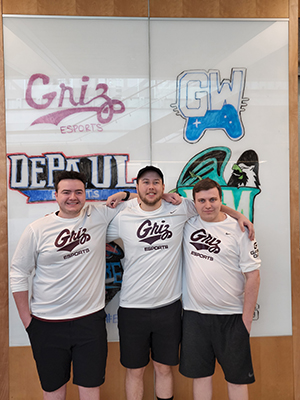 That win qualified UM Rocket League players for the national collegiate championship in April, but traveling to the Williamsburg, Virginia, event wasn't a foregone conclusion. The trip represented the team's first competition of that level since its founding in 2019 and required resources it didn't have readily available.
Cassens partnered with the University of Montana Foundation to launch a crowdfunding campaign to request donations from stakeholders across UM's giving community. Between that campaign and other donations from private supporters, the team surpassed its goal of underwriting travel to the competition, where it advanced to the semi-finals.
"Folks said 'we're willing to do this because we really believe in you,'" Cassens explained. "To have that kind of community support was huge."