Visionary Campaign Montana Donors Spark Transformation Across Campus
It is not possible to step foot on campus without seeing the difference Campaign Montana donors have made to UM facilities. Whether you're strolling the paths between buildings or entering the structures themselves, you cannot miss the new and renovated spaces made possible by more than $50 million in campaign gifts.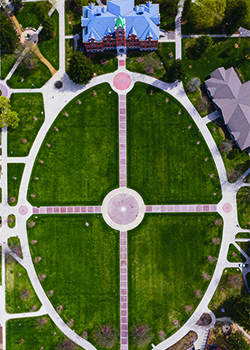 The support has transformed campus and created world-class facilities, the value of which transcends structural changes. Facilities giving has triggered multi-faceted benefits across campus by providing spaces where innovative programs grow and flourish; technology enhances cutting-edge research; collaboration ignites learning and sparks creativity; and the broader community accesses vital UM services.
Among these dynamic spaces is the new wing of the Phyllis J. Washington College of Education. The addition provides increased space for early childhood education, counseling training and the Montana Digital Academy, while the college's new ALI Auditorium hosts classes, statewide meetings and national conferences.
Donor support built the Washington-Grizzly Champions Center, one of the premier training and locker facilities in the nation, and the Eric and Blair Sprunk Student-Athlete Academic Center that offers academic support, a computer lab, study space and more to UM's 300-plus student-athletes.
In the College of Humanities & Sciences, private giving supported classroom renovations, enhanced technology, upgraded infrastructure, a new building entrance and a renovated auditorium in Dennis and Gretchen Eck Hall. Donor support also allowed the college to renovate the Philip L. Wright Zoological Museum.
When state funding enabled UM to open a new Missoula College building on its River Campus in 2017, donor support helped optimize the learning spaces and labs with technology, equipment and furnishings.
Other contributions to the UM Foundation funded renovation of the Mansfield Library Learning Commons, helped establish the School of Journalism's Montana Media Lab, and will enable the Montana Museum of Art and Culture to bring its collections into view and public engagement.