Building Accessible Pathways
Support for UM Native Excellence Programs Gains Momentum
Sitting in the aboriginal territories of the Salish and Kalispel people, the University of Montana is reinforcing its ongoing commitment to Native American student access and success in higher education.
UM is making renewed efforts to build accessible pathways to higher education and meaningful careers for Montana's Native American students, and its giving community is investing right alongside the University, demonstrating the collective passion for helping the institution meet its goal to foster inclusive prosperity and opportunity for all.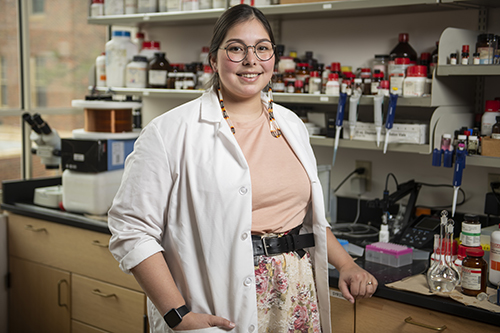 A member of the Standing Rock Lakota Sioux tribe and native of Rochester, Minnesota, Sierra Paske said she chose to attend UM because of the one-on-one attention Department of Chemistry students receive and the vibrant group of Native American students on campus.
The Cognizant Foundation's recent $250,000 gift to the Montana American Indians in Math and Science, or MT AIMS, and Indigenous First-Year Experience programs is one example of private support bolstering UM's efforts to promote academic equity. MT AIMS provides early exposure to STEM fields for Native middle and high school students and supports students' transition to higher education so they may pursue college and careers in science, technology, engineering and math. The Indigenous First-Year Experience program connects first-year American Indian students who may need resources such as tutoring and mentoring to ensure a successful start to their college experience.
Philanthropy is advancing UM's Excellence in Native American Education Plan, which established the President's Native American Advisory Council and provides a roadmap for the University's path to inclusive excellence. Together, this plan and donor support have expanded resources for Native students and helped lead to a 24% increase in Native American undergraduate enrollment and a 13% increase in retention since 2018.
A Tribal Outreach Specialist position is a key component of UM's focus on inclusive prosperity and student success. Last year, UM hired Dr. Karla Bird, who now serves as a liaison to tribal communities in the region and an adviser and partner to the campus community.
Additional efforts include bolstering the Office of American Indian Student Services, which supports Native American students and their families as they navigate academic life and their transition to UM and the Missoula community, as well as the Kyiyo Pow Wow, an annual event that brings together Native American tribes to preserve their rich heritage and renew ancient traditions.
You can help
To join UM's generous giving community and invest in creating opportunities for Native American students, give to support the Excellence in Native American Education Fund at SupportUM.org/Give or contact Director of Development for University Priorities Mandy Brooks at 406-243-2585 or mandy.brooks@supportum.org.