Celebrating a Beloved Icon
UM Presents Posthumous Honorary Doctorate to Emma Lommasson
Emma Lommasson made a profound impact on generations of students through her lifelong commitment to the University of Montana. UM recognized Lommasson's dedication with a posthumous Honorary Doctorate of Humane Letters during Fall Commencement 2022.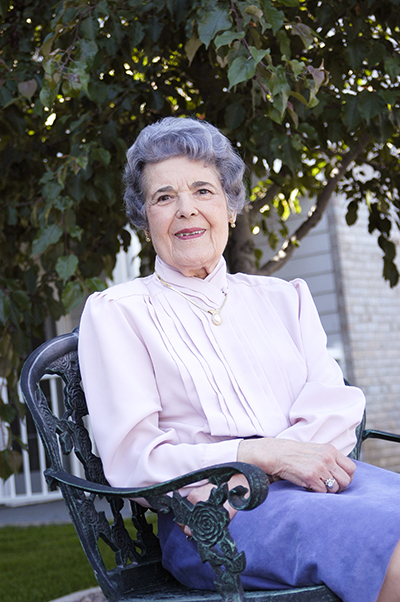 Lommasson devoted 58 years to UM as a student, teacher, staff member and the University's first female interim registrar. From Sand Coulee, Montana, she earned an undergraduate mathematics degree from UM in 1933. She earned a master's degree in mathematics in 1939 and began her legendary career at her alma mater.
Lommasson instructed in the Department of Mathematics and taught navigation and civil air regulations during World War II to prepare students for service in the U.S. Air Force. Working as UM's first adviser for veterans, she also advised the Air Force ROTC Angel Flight for many years.
What Lommasson was most known for though, was her spirit of generosity toward UM students. It wasn't unusual for her to reach into her own pocket to help a student struggling to stay in school.
Mick Hanson, whose four decades of service to UM include 25 years as director of financial aid, praised Lommasson's leadership.
"I learned from Emma to always place the needs of the students first," he said. "She counseled countless students, and in many cases, also gave them financial support."
After she retired in 1977, Lommasson volunteered for a decade at the UM Registrar's Office. She was recognized for her service with a Faculty Senate Award, a Distinguished Alumni Award, the Robert T. Pantzer Presidential Humanitarian Award and an Outstanding Volunteer Award. In 2001, the Emma Lommasson Center was named in her honor.
Lommasson's remarkable generosity includes charitable donations to fund scholarships at UM. Through an estate gift, she endowed a scholarship in her namesake to benefit students in perpetuity.
Said Hanson, "Emma lived a long, beautiful life dedicated to helping thousands become better people and contributors to society."