Wild Sustenance Course Opens Doors Through Experiential Education
Improving access is at the heart of UM's mission — and that's exactly what the Wild Sustenance course does for students who want to learn about hunting and conservation, while having a once-in-a-lifetime experience.
Course creators Libby Metcalf, Joel Meier Distinguished Professor of Wildland Management and associate dean in the W.A. Franke College of Forestry and Conservation, and Joshua Millspaugh, Boone and Crockett Professor of Wildlife Conservation, developed Wild Sustenance to provide an immersive opportunity for students with limited hunting experience. Below, Metcalf shares how private support is helping grow the course's impact and UM's future expansion of experiential learning opportunities outside the classroom.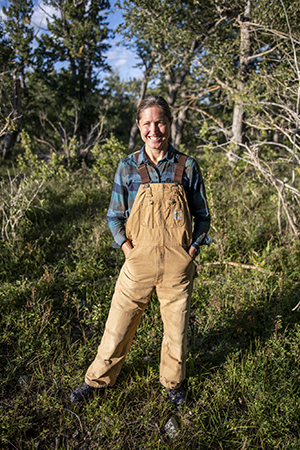 What inspired you and Professor Millspaugh to create Wild Sustenance?
Hunting is an activity with many constraints; it's expensive and requires specific knowledge and skills. Research shows a declining hunting population in the U.S., and only about 14% of the hunting population are women. Wild Sustenance breaks down barriers and provides an entry point for students from any major to engage in hunting and appreciate its role in wild game management. 
How does the course impact students, the community and the environment?
The experiential component brings coursework to life. Students learn firearm safety, ethical hunting and how to prepare wild game. They also develop camaraderie with fellow hunters, connection to natural resources, and respect for the land and wildlife.
Wild Sustenance fundamentally changes students' leisure behaviors by exposing them to a new activity with diverse benefits, from enjoying outdoor recreation, to harvesting local, sustainable food for their families.
Philanthropy supports your and Professor Millspaugh's positions. How does charitable giving also elevate experiential learning?
Individual donors like the Meiers who believe in supporting faculty, and organizations that believe in our work made this course possible. The Rocky Mountain Elk Foundation has helped take the course to the next level through dedicated funding. One of our biggest challenges is finding land to harvest wild game, and last semester, they gave us exclusive access to hunt on their property for two weeks.
The Boone and Crockett Club provides course materials like firearms and hosts students at the Theodore Roosevelt Memorial Ranch for several days. These resources create an unparalleled opportunity to learn through hands-on activities, such as dressing and cooking wild game.
Learn More
To see the Wild Sustenance course in action, watch this video. To give to support courses like Wild Sustenance, contact Ben Super, director of development at the W.A. Franke College of Forestry and Conservation, at 406-243-5533 or ben.super@supportum.org.