A Lifelong Dream Realized: New UM Business Grad Works for L.A. Lakers
February 27, 2020
Growing up in Orange County, Calif., Myles McKee-Osibodu idolized the L.A. Lakers. A self-proclaimed "Lakers freak," McKee-Osibodu had the team's logo shaved into his hair and even slept with a Lakers basketball. Today, the 2019 University of Montana College of Business graduate is living his childhood dream: He works as a media relations associate with the Lakers.
"I'm still kind of in shock that this is my reality," said McKee-Osibodu, who didn't miss a single game as a kid. "It's definitely a dream come true and blessing beyond belief to be a part of the organization that has meant so much to me growing up."
Working for the Lakers
New graduates don't land positions with NBA teams without a lot of hard work, and this is especially true for McKee-Osibodu. He double majored in marketing and communication studies, was a two-time team captain of the Grizzlies football team, vice president of the UM American Marketing Association, and member of the College of Business Dean's Student Advisory Council.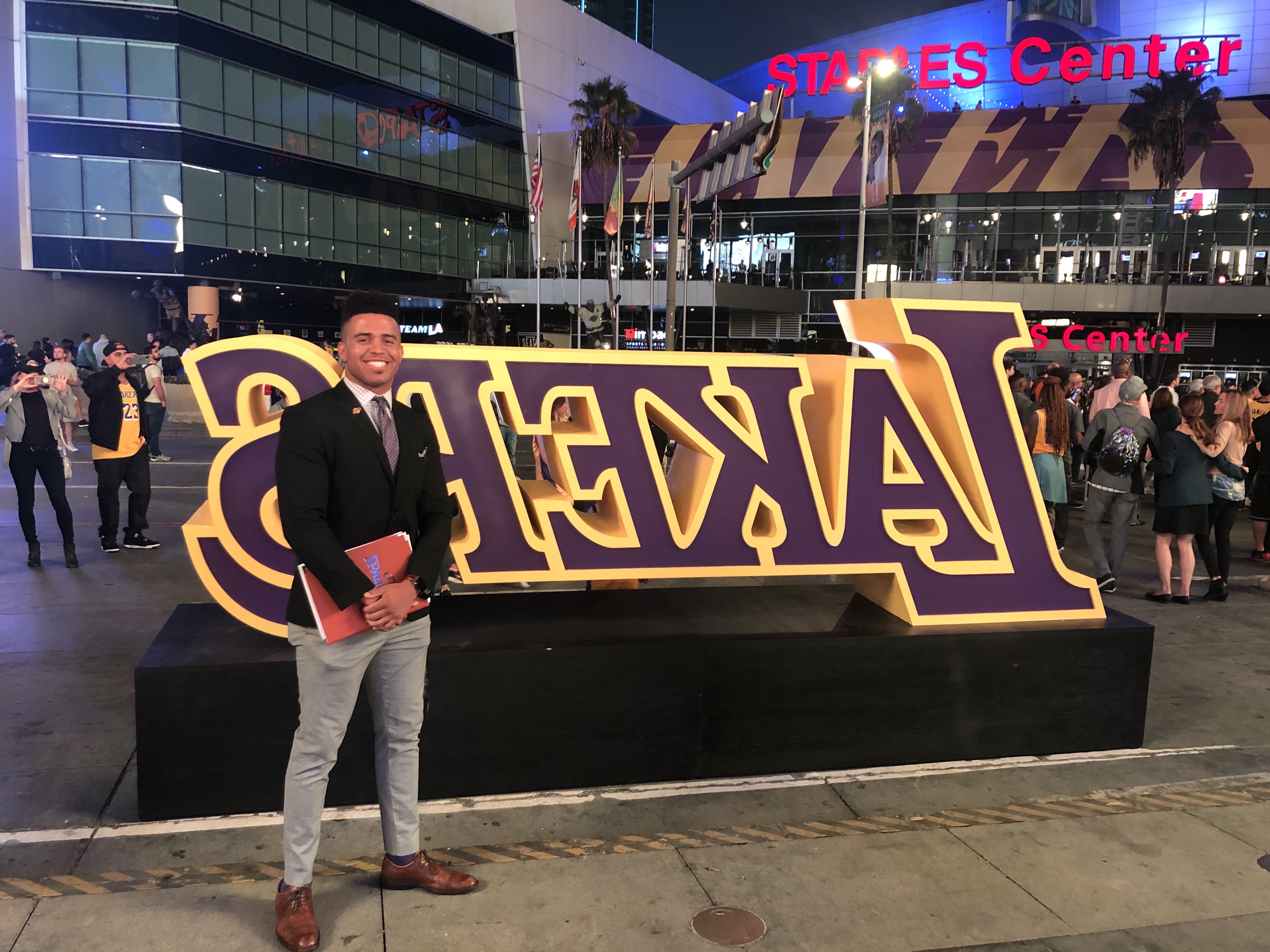 Now, his days are even busier. His day-to-day work as a media relations associate varies from creating content for Lakers Magazine to helping oversee ESPN interviews with players. Game days, he said, are a different animal.
"Before the game, you're running around the stadium and serving as the overall point of contact for any media members or visiting team personnel," he said.
After games, McKee-Osibodu transcribes interviews with players and coaches to be published and distributed in official Lakers and NBA publications.
"The simplest way I like to describe it is that we kind of serve as the bridge that connects the Lakers to the public," he explained. "We give the Lakers to the media and the media gives the Lakers to the world."
A Strong Support System
McKee-Osibodu, who now lives in San Pedro, Calif., credits much of his success to donor-supported scholarships, which relieved some financial burdens and allowed him to focus on his academic and career goals. He also credits his UM football coaches and the staff of the Larry and Dee Dee Gianchetta Student Success Center at the UM College of Business.
The Center offers a one-stop shop for advising, internship placement support, scholarship information and graduate programs. The Center's services also include providing career development assistance and information regarding studying abroad and student groups.
"The staff served as great resources whenever I had questions on how to specifically tailor a resume or I needed help writing a cover letter. Being a first-generation American and a first-generation college student, I really struggled navigating what was next for me after graduation," he said.
"For the first time in my life, I didn't have any sort of guidance or any kind of blueprint on what to do next, so just having the support system of somebody who really believed in me and could see the potential that I couldn't see meant the world to me."
McKee-Osibodu is especially grateful to Estella Anderson, director of career development at the Student Success Center, for helping him land his dream job.
"Estella was a breath of fresh air, a bottomless source of encouragement and an invaluable resource for both personal and professional development," McKee-Osibodu said. "Nobody but your mom is going to be more genuinely invested in helping you succeed than Estella."
Anderson's role at the Center is to ensure that students graduate with a full-time job offer. In pursuit of this goal, she coordinates career fairs with over 120 employers and organizes about 20 workshops each year, ranging in topic from networking, to budgeting to personal branding.
The Center, which opened in 2016, is made possible by donor support. In an average semester, its staff sees 1,250 walk ins and 4,500 interactions with an online advising supplement that students use to learn more about college programs and opportunities such as internships. The school's exceptionally high job placement rate reflects the value of these visits: 80% of graduating College of Business seniors participate in at least one internship, and 86% of alumni work or attend grad school within three months of graduation.
"When they have questions, many students don't know where to go or who to talk to," Anderson said. "We connect with students and get to know them. They know where they can go if they need something."
Anderson emphasized that a central location is more convenient, thus increasing the likelihood that students will take advantage of available resources. Before the Center opened, each of its three facets — advising, internships and career development — were located on different floors.
"The proximity enhances the connection between staff and students," Anderson said. "Now, staff develop consistent relationships with students through their college careers. As a result, they have a better chance of success."
Director Kathleen Tarkalson explained that these connections help students feel emotionally supported, especially during times of stress.
"We act as cheerleaders and give students pep talks before tests," she said. "We also give them a crying shoulder when they're facing a crisis. Students feel like they have a home away from home."
While the Center has proven an invaluable resource for many students, plans to optimize its impact are in progress. The Center plans to provide a more robust clothing closet with new work clothes students can choose from when they need professional attire for interviews or similar opportunities, and is working to provide college freshmen with early exposure to business curriculum, networking opportunities and Center services.
More Than a Job: Living Kobe's Philosophy
The Center has made a lasting impact on McKee-Osibodu, who treasures his position with the Lakers as much more than just a job. His reaction to the recent passing of Lakers icon Kobe Bryant demonstrates this fact. McKee-Osibodu had adopted Bryant's "Black Mamba" way of being across every area of his life. He says the philosophy, which the star described as "just trying to get better every day," has helped make him who he is today.
"I was born in L.A. the same year that Kobe Bryant became a Laker," he said. I grew up without a father or any other positive black male role models to look up to, and he became the single most influential figure in my life outside of my immediate family."
With philanthropic support, students like McKee-Osibodu will continue to have access to the comprehensive campus resources they need to persist to graduation and develop meaningful careers.