Clinical Psychology Center Transitions to Teletherapy During Pandemic
April 27, 2020
When the COVID-19 pandemic forced the University of Montana's Clinical Psychology Center to close its doors in late March, Center leaders knew they had to find a way to continue treating current patients.
Less than two weeks later, they launched a telehealth program for existing clients.
"It is so impressive how our clinicians and supervisors have managed to completely change our method of providing mental health services while also maintaining a high quality of care and supervision in such a short period of time," said UM Clinical Psychology Center Director Raurie Birch.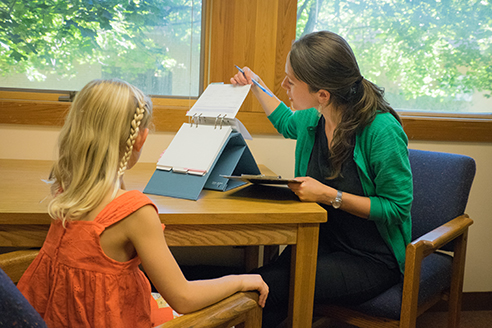 A critical resource, the Center serves clients of all ages, including UM students, the Missoula community and individuals and families from across western Montana, where demand for mental health services far exceeds clinical capacity. The Center is particularly valuable to clients with limited resources as it charges on a generous sliding scale, supporting Montanans who are least likely to receive services elsewhere.
Its work is as meaningful now as ever, Birch said.
"It's important to take care of people who are vulnerable," she explained. "Our clients are coming in for treatment because they're struggling, and now they've been thrown a major curveball. A lot of folks have lost security, whether that's their job, their home or their health, and it exacerbates the clinical presentations we see."
The Center's staff have managed a number of technological and logistical challenges in order to provide teletherapy services. Working on a version of Zoom that is compliant with patient privacy laws, they have implemented new ways of storing, accessing and updating medical records that also respect patient confidentiality.
Birch and her colleagues are now working to add the ability to record Zoom sessions between student practitioners and their patients. This important functionality will allow supervisors to deliver feedback for student learning, just as they do during in-person supervision sessions.
"Student supervisors normally watch recorded sessions," Birch said. "Receiving feedback and direction from an experienced professional is a critical part of our training process so we are keen to continue providing it."
Donor Support: Critical for Expansion
With the Center providing such critical services for western Montana, UM plans to update the first floor and add a second floor to the existing Clinical Psychology Center building.
Operational complexities resulting from the COVID-19 pandemic prevent the Center from welcoming new clients while pioneering the telehealth program. However, UM practitioners remain mindful of the need to serve more Montanans and are optimistic about plans to expand the Clinical Psychology Center. As private support meets this College of Humanities & Sciences fundraising priority, the renovations to the building — built in 1984 and located on the south side of campus — will allow UM professionals and graduate students to treat up to four times more clients and expand vital training and research capabilities.
"What's happening right now with the pandemic is a health and economic crisis, but concurrently there's a mental health crisis," Birch said. "Keeping our services going and increasing our case load as we increase capacity is critical."
The renovations to the Center's facility to expand its mental health care services will only be made possible through donor support, including a generous 2019 gift from UM alumni Sam and Julie Baldridge, which is helping to meet a challenge gift from the Terry and Patt Payne Family. Alumnus Tom Hamburgen, Ph.D. and clinical psychologist, and his wife Shauna, were recently inspired to make a gift to the Center, and fundraising efforts are ongoing.
Your gift helps:
Build additional service and testing rooms
Add space for group treatment and engagement
Create more student training facilities
See this video to hear from UM practitioners about the growing need for mental health care services and to understand the power of philanthropy to change lives.
For questions or to support this project, contact Suann Lloyd, senior director of development for the College of Humanities & Sciences, at suann.lloyd@supportum.org or 406-243-2646.