'An Important Part of My Life'
UM ALUM, GRIZ FAN EMPOWERS STUDENT-ATHLETES
August 1, 2023
Mike Dwyer's love for UM began as a child, when he and his father attended basketball games at Schreiber Gym. He remembers watching construction of the Harry Adams Field House — now known as Dahlberg Arena — with his grandfather, then seeing the first game there against defending national champions Indiana in 1953. His father, who owned Missoula's famed Bug's BBQ until 1974, was also a charter member of the Grizzly Scholarship Association.

Dwyer went on to graduate from UM with bachelor's degrees in anthropology and sociology in 1967. After four years of Naval service, he earned a bachelor's degree in social work from UM. For more than 30 years, he enjoyed a career as a social worker assisting adults with developmental disabilities.

Today, Dwyer funds scholarships for student-athletes through charitable gift annuities, which allow individuals to support the University while receiving fixed payments for life during retirement. Below, he shares his motivation for helping Grizzlies in this way.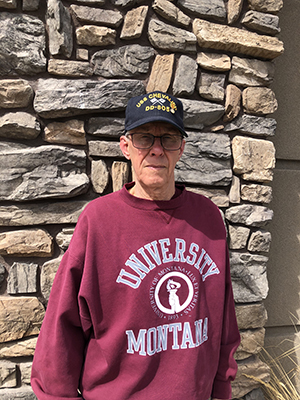 What made UM the right choice for your philanthropic giving?

I've been involved in the University since I was a kid. My grandfather and dad were big Griz fans, so it's always been an important part of my life.

My education helped me get a job so I could serve my community and retire comfortably. One of my professors introduced me to a supervisor at the Missoula Office of Social and Rehabilitative Services, later renamed the Department of Family Services.

That launched my career. I chose to fund scholarships so I could help student-athletes earn a UM education and pursue rewarding careers of their own.
What motivated you to support student-athletes with charitable gift annuities?

I had the idea after my mom and I established a scholarship in my dad's memory. Charitable gift annuities have major tax benefits and provide me with additional income. It gives me flexibility and comfort knowing I have income to supplement my Social Security, other investments and state retirement. Plus, giving in this way allowed me to make larger, more impactful donations than an outright gift.
How does it feel to help students through scholarships?

I enjoy meeting the student-athletes and learning about their goals. They've all done well in athletics, and they're good citizens. One student used her scholarship to attend summer classes then pursue veterinary school. It feels good to give back, and I hope to continue.
What impact do you hope your gift will have?

I want to help the Griz win, but I also want to relieve a financial burden for students. I probably spent less than $3,000 on my entire education. Today, tuition is much more expensive. I still take classes at the Osher Lifelong Learning Institute, or MOLLI, so I appreciate that going to school is a dream come true. I want to make that dream possible for the next generation.
What advice do you have for someone who wants to give back to the University?

There are many easy, rewarding ways to make a difference. Your donations — whether they're charitable gift annuities or outright gifts — help promote UM's role as an economic driver and cultural hub for the entire state.