Herpetology Career Awaits Student Success Scholarship Recipient
April 28, 2021
Libby Riddle always dreamed of becoming a wildlife biologist. With assistance from UM's Student Success Scholarship Fund, which focuses on assisting students with financial need, she is making her dream come true.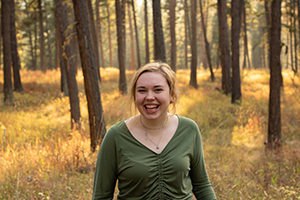 The junior from Nashville, Tenn., is earning a bachelor's in wildlife biology with a minor in wilderness studies. She is on track to graduate in spring 2023 and pursue a career in herpetology, the study of reptiles and amphibians.

Below, Riddle shares how private support from donors is helping her achieve success in her academic and professional pursuits.
What inspired your plans to study wildlife biology at UM? 
When I was in high school, a professor at the Tennessee State University laboratory where I worked recommended UM. I was so impressed when I researched the Wildlife Biology Program and realized that UM was the best place for me.
I was also drawn to the University's connection with educational organizations in the community, like Complexly, that are doing interesting and exciting work. (Complexly is the Missoula-based educational media company run by YouTube stars and authors Hank and John Green.)
Choosing a college was difficult, but the decision was made significantly easier by the scholarship support UM offered. It really felt like this school wanted me to come here and succeed.
How is scholarship support helping you achieve your dream of becoming a wildlife biologist?
This support allows me to work unpaid positions in my field of study, so I can still gain relevant experience while I'm earning my degree.
This semester I interned with the Clark Fork Watershed Education Program. I taught virtual lessons to middle school students about the Clark Fork River and watershed science, and we took a field trip to test water quality.
This summer I will intern at a nonprofit wildlife rehabilitation center in Nashville called Walden's Puddle. I will help rehabilitate wild animals that have been injured or found in cities so they can return to their natural habitats.
Why is scholarship support meaningful to you and your family?
Scholarships are the only reason I can attend school out of state. I'm incredibly grateful for the freedom to focus on my studies without worrying about finding a job to support myself.
My parents are absolutely thrilled that I chose UM. Because scholarship support helps pay for my tuition and other school-related expenses, my parents and I can afford to pay for other necessary costs that help me thrive while I earn my degree.
Learn More
Your gift to the UM Foundation in support of Student Success Scholarships ensures an affordable, accessible, high-quality education for UM students. To learn more and give, visit www.supportum.org/success.