Nurse, Mom, Missoula College Graduate Follows Her Purpose to Serve Others
May 6, 2021
This National Nurses Day, we celebrate Missoula College graduate Libby Steigers, who earned an Associate of Science in nursing this spring. Steigers, a single mother, was the recipient of a Horatio Alger Scholarship, which is awarded to students who have overcome adversity. Next, she plans to pursue a bachelor's degree in nursing and focus on critical care.

In this Q&A, Steigers shares her inspiration to pursue a career in health care and the role scholarship support played in her academic journey.
What inspired you to pursue a career as a nurse?
For the past six years, I have worked as a certified nursing assistant in home health care, helping elderly patients with daily living. This experience has taught me how to be present for people when they're facing change and uncertainty. Serving others in this way has been very fulfilling.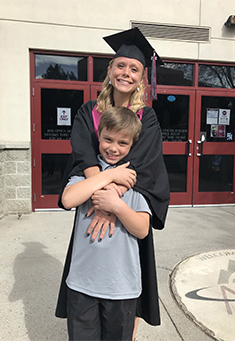 I was inspired to pursue a career in nursing when my brother died in 2010 from a subdural hematoma while playing football. This impacted me greatly, and it took several years to work through my grief, but it ultimately motivated my decision. As a nurse, I hope to make a difference for patients and their loved ones.
I was also influenced to choose this career path after spending time in the neonatal intensive care unit at Community Medical Center when two of my friends had babies. I was so impressed by the nurses' passion for supporting patients.
What did you enjoy most about the Missoula College Nursing Program?
I really became committed to my studies when I started taking pre-nursing courses. Learning from the professors' firsthand nursing experience was so exciting and motivating, and I knew that I had found my calling.
During the pandemic, my instructors set an amazing example of adapting to change and using critical thinking, which are important aspects to nursing. They were all supportive during the transition and committed to helping students through it.
Why is scholarship support meaningful to you and your family?
I'm a single mom, and working full-time while attending nursing school has been very rigorous and demanding. In addition to the tremendous help I've received from my family and friends, scholarship support has allowed me to commit 100% to my education and to raising my son. It has eased a financial burden and reduced barriers that would have otherwise felt insurmountable.
I'm so grateful to donors who believed in me. Your support enabled me to follow my purpose, and I intend to pay it forward by serving others through my profession.
Learn More
To learn more about Missoula College academic programs and to support students like Libby, visit the Missoula College web page.