September 30, 2021
When Sally Mauk launched her journalism career in 1980, she was one of few women in the field. For 31 years, Mauk served the state as news director at Montana Public Radio, and several years as an adjunct professor at UM's School of Journalism. During her time as a reporter, she covered the historic western wildfires of 2000 and was the only Montana journalist covering the 2008 Democratic National Convention when Barack Obama was nominated as the first African American presidential candidate. Mauk currently hosts MTPR programs Parsing the Press and Capitol Talk.

Inspired by the "founding mothers" of National Public Radio, Mauk realized early in her career the importance of female mentors. She established an endowment to foster and support journalists at MTPR, and in cases where recipients are females, she further hopes her gift will promote and advance the role of women in the news media across the globe. Below, Mauk shares her motivation for supporting MTPR journalists in this way.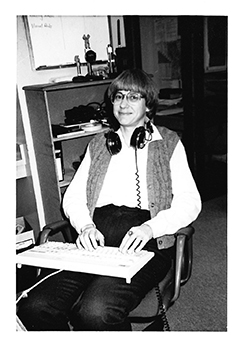 How did teaching at UM inspire your decision to make this gift?
Students remind you what is important about your profession. Teaching enabled me to nurture their curiosity and see it bloom. Watching them transition from the classroom into successful careers has been a pure, ongoing joy.
Former students Maritsa Georgiou with NBC Montana recently received the Walter Cronkite Award for excellence in television political journalism, and Dan Boyce with Colorado Public Radio won the 2020 Carolyn C. Mattingly Award for Mental Health Reporting from the National Press Foundation.
What motivated you to support MTPR with a gift in your estate plan?
With this gift, I hope to continue supporting promising young journalists.
I wanted to support a cause that I am passionate about and that is so crucial to continue. This gift fulfills both of those requirements. There is no guarantee of ethical, credible journalism in the future unless people step up and contribute to it. MTPR is dedicated to equality and to serving the state that has given me so much joy. Giving through my estate plan allowed me to make the biggest impact statewide.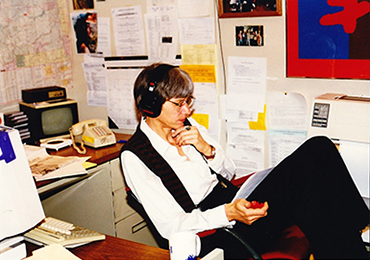 How does it feel to give through your estate plan?
It was a joyful collaboration with MTPR, the University of Montana Foundation and my attorney in achieving my charitable goals. I am grateful to have been able to work with such a smart, dedicated team of women.
Estate planning can be somewhat stressful, but once you get started, you get the sense that you are doing something of value that you can be proud of. When it is finally completed, it feels like a lasting accomplishment.
What impact do you hope your gift will have?
I hope my gift will encourage and reinforce to its recipients that they are valued. I aim to foster the development — and promotion — of journalists in public radio, through training, internships, mentoring, residencies and other opportunities. The community benefits greatly from public broadcasting. Trustworthy journalism has never been more important than now, and it will continue to be important in the future.
What advice do you have for someone who wants to give back to the University?
Whatever you can give is helpful. Don't imagine a gift has to be a certain level to make a difference. If you believe that a cause is crucial, then it should be supported.