UM Professorship Honors Music Educators' Legacy of Excellence
March 30, 2022
Ralph and Norma Hartse were beloved Montana educators who taught students more than music — they inspired young musicians to strive for excellence in all areas of life.
The Hartses are remembered by their former Custer County High School students, the Miles City community and fellow musicians across the country for the values they embodied and instilled, including teamwork, persistence and discipline. Through their teaching careers, these University of Montana alumni built a respected legacy that lives on today.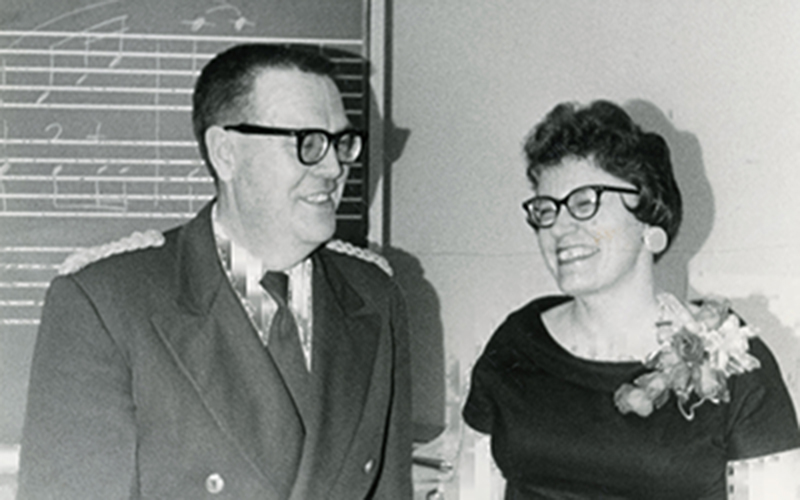 Their daughter, Dr. Kristyna Hartse, is honoring this legacy by creating the Ralph J. and Norma M. Hartse Endowed Professor of Bands at UM's School of Music. The Hartse Professorship, which will be fully funded by 2025, will provide salary support for a faculty member who is a director of bands, including concert band, symphonic wind ensemble, jazz band and marching band.
Because the funds supporting this professorship will be endowed — meaning Dr. Hartse's gift will be invested in perpetuity with a percentage made available annually to support the position — UM School of Music students will be assured exceptional instruction and performance opportunities for years to come.
Both native Montanans, Ralph and Norma began developing their musical talent at a young age on clarinet and violin, respectively. They met at UM in 1946 while pursuing their bachelor's degrees in music education and married the next year. After teaching instrumental and vocal music in the Darby School District from 1948 to 1949, they moved to Miles City. Here, Ralph began his three decade-long teaching career at Custer County High School and rapidly established an unprecedented national reputation as a respected band director.
"There was nothing better than being in Mr. Hartse's band," said Shari Swanson, a former student. "The rapport and respect he shared with students were incredible — and everlasting. The strength of his wise, caring and often wonderfully funny personality reached many of us."
Another student, Allen Slater, reflected on how his experience with Mr. Hartse as his high school band director impacted his passion for music education.
"I learned so much from him that I passed on to my band students during my own teaching career," he said.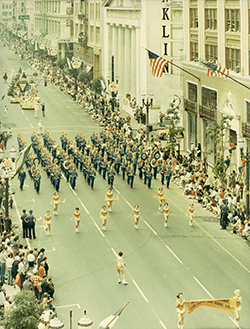 During Ralph's first year in Miles City, he earned a master's degree in music from UM while growing the high school band from 23 members to 38. The size of the band increased over the years to more than 90 students. He founded the school's first pep band, which became well known across the state for its spirited performances, and was invited to play at the Kiwanis International Convention in Denver in 1962 and again in 1974. For 25 consecutive years, the concert band received superior ratings at district music festivals. In addition, numerous soloists and small ensembles received superior ratings at district and state music festivals over the years.
In 1964 the marching band was invited to participate in the Portland Rose Parade, where it won the first place trophy in both the Junior Parade and the Grand Floral Parade (pictured).
Ralph maintained his dedication beyond the classroom, as well. He spent many late nights handwriting music arrangements and organizing fundraisers to purchase new band uniforms, risers and more. He also served as Montana state chair of the American School Band Directors Association.
Throughout his career, Ralph received national recognition for his work in music education and performance. In 1955, he was selected as a member of the First All-American Bandmaster's Band in Chicago. In 1968, The School Musician magazine selected him as one of the ten most outstanding high school music directors in the U.S. In 1973, he was awarded a John Hay Fellowship, sponsored by the National Endowment for the Humanities, to pursue continuing education in the arts at the Summer Institute in the Humanities held at Bennington College in Vermont.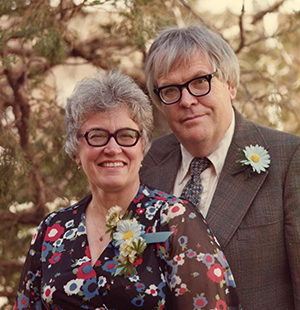 Norma started her two-decade career as the choral director at Custer County High School in 1965 and became known for the excellence of her choruses and small vocal groups. While teaching, she performed with various ensembles, including the Miles City Community Orchestra and the Billings Symphony.
Norma sang with the Miles City Community Chorus, served as music director of the Emmanual Episcopal Church and founded the Norma Hartse Singers, an adult ensemble that performed during the holidays for homebound senior citizens and civic events. She was also a member of the Miles City Music Club, the Miles City Concert Association and Barn Players, Inc., the oldest amateur theatre group in the state.
For 24 years, the Hartses both played with the Winds of Montana, a statewide music ensemble, and in 2003 the Custer County Art and Heritage Center recognized them with the Governor's Award for their lifetime achievements in music.
Dr. Hartse, who played in the concert band, marching band and pep band while her father was director, said her parents demonstrated a tradition of altruism that she hopes to promote through this endowment.
"I observed how selfless my parents were in their dedication to shaping students' musical excellence," she said. "That's a common characteristic of music educators: They are generous in sharing their talents."
Dr. Hartse's gift will establish the first endowed professorship in the College of the Arts and Media and will support research and creative scholarship within the School of Music's Bands Program.
"This professorship signals a new era for the School of Music," said College of the Arts and Media Dean Laurie Baefsky. "It honors the deep impact inspired music educators can make and will ensure our exceptional Bands Program continues for generations to come."
Dr. Hartse is establishing and endowing the professorship in her parents' names, in part, through Qualified Charitable Distributions, which allow individuals 70 ½ or older to transfer up to $100,000 per year from an individual retirement account directly to charity. The distributions are not counted as income for federal income tax purposes, providing a simple, tax-efficient way for Dr. Hartse to support higher education and maximize the impact of her contributions on the lives of UM music faculty and students.
Dr. Hartse, who serves as a clinical consultant to Sun City Sleep Center in El Paso, Texas, attended music camps at UM and continues to play multiple instruments. She hopes her gift will encourage others to support the UM spirit of excellence in music education exemplified by her parents and to support the arts.
"Music speaks to our souls and makes us better people," she said. "It is important that this heritage is nurtured and preserved for the next generation in settings like UM that demonstrate a strong tradition of excellence in music education and performance."
Dr. Hartse's contribution will sustain her parents' legacy and provide future UM music students with quality education.
"This professorship certainly honors my parents' lifelong accomplishments," she said. "However, in some sense, it pales in comparison to the memorable impact they had on the many lives they touched through music."
All are welcome to attend the UM School of Music Honors Convocation at the Dennison Theatre on May 4, 2022 at 7:30 p.m. to celebrate the Hartse Professorship and School of Music scholarship donors and recipients. The event is free of charge, and reservations are not required. To learn more, call 406-243-6880 or email griz.music@umontana.edu.
To make a gift to the UM School of Music Bands Program in memory of Ralph and Norma Hartse, visit SupportUM.org/Music-Hartse. Please choose School of Music from the designation choices menu and note your gift is in honor of the Hartses in the comments section. To learn more, contact Director of Development Cate Sundeen, at 406-243-4990 or cate.sundeen@supportum.org.