UM Foundation Honors Mark and Cheryl Burnham with Order of the Grizzly Award
Sept. 23, 2022
MISSOULA – The University of Montana and UM Foundation honored Mark and Cheryl Burnham with the Order of the Grizzly Award at the President's Fall Gathering on Thursday, Sept. 22. The award recognizes those whose leadership and philanthropy have made a significant impact on UM.
The Burnhams have supported the University for more than three decades through their generous philanthropy and service. Mark, who grew up in Helena as one of six children, has more than a dozen family members who are alumni or associates of UM. He graduated in 1984 with a degree in finance from the College of Business, and Cheryl graduated in 1986 from the Skaggs School of Pharmacy.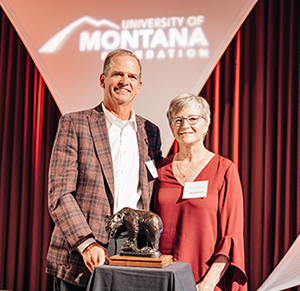 Due to the transformative power that college had on their life and lifelong relationships they initiated at UM, the Burnhams believe strongly in the value of higher education.
"It is a great honor to bestow this award on the Burnhams on behalf of UM and the UM Foundation," said Cindy Williams, president and CEO of the UM Foundation. "They inspire our entire giving community through their continuous generosity and service."
The Burnhams are Missoula residents who generously support UM by giving to enhance faculty teaching and research, student initiatives and leadership roles in the College of Business, the Skaggs School of Pharmacy in the College of Health, and Grizzly Athletics.
In 2016 the Burnhams, together with Eric and Blair Sprunk and their families, made contributions to create the College of Business Sprunk and Burnham Endowed Dean's Chair – the first of its kind in the state. The endowment guarantees funds in perpetuity to support the dean's vision and strategic initiatives. Additionally, they have endowed a finance professorship in the college.
The Burnhams also have supported UM's health and pharmacy programs, with gifts to establish a faculty fellowship in pharmacy practice. In 2018, the Burnhams provided $1 million in seed funding to help UM expand its commitment to educate health care practitioners for communities across Montana. With this gift, UM Health and Medicine created the Burnham Family Population Health Fellowship for doctoral students in public health, as well as the Burnham Family Practice in Montana Scholarship, which supports UM students in health care who plan to practice in rural and underserved areas of the state.
From 2018 to 2020, the Burnhams served as co-chairs during the public phase of Campaign Montana, the most ambitious and successful higher education fundraising campaign in state history. Over seven years, the comprehensive "Campaign Montana – Think Big. Be Bold." inspired $450.9 million in giving from more than 34,000 donors to elevate every UM student, college, school and program.
The campaign exceeded every goal, including the initial $320 million goal set during the quiet phase that began in July 2013, the $400 million goal announced when the campaign launched publicly in October 2018 and the aspirational goal of 110% ($440 million) established during the campaign's final year. The Burnhams' leadership was a cornerstone of Campaign Montana's success and its transformative, long-lasting effect on thousands of students and the entire UM community.
In addition to providing philanthropic support, the Burnhams remain highly engaged with UM. Mark lectures semiannually in the College of Business and served on the UM Foundation Board of Trustees. In 2018, the College of Business recognized him for outstanding career achievement.
Mark began his career in 1985 as a credit trainee at Norwest Bank in Billings. Over the next 16 years, he gained banking experience while working for Norwest (now Wells Fargo) and First Bank Systems (now U.S. Bank) in Montana, Minnesota and Colorado. In 2000, he joined Holiday Retirement Corp., the largest owner, operator and builder in the senior housing industry, based in Salem, Oregon. He served as director of finance until Holiday was sold to a private equity firm.
Through OZ Cap LLC, formed in January 2009, and other related entities, Mark has had active ownership in a variety of commercial real estate and operating investments, including community banking, senior housing, hospitality, multifamily, retail, offices, residential land development, golf courses, private lending and franchise restaurants.
Cheryl worked as a registered pharmacist for 15 years, both in a hospital and a retail setting, and serves as president of the Madrona Hill Foundation, a private family foundation.
"UM is a place where donors can make a remarkable impact," Cheryl said. "We are honored to invest in students' success and the future of our state."
"We all have an opportunity to make a difference," Mark agreed. "We are proud to give back to the University and our community."
The UM Foundation established the Order of the Grizzly in 1965 to honor individuals who sustain an active interest in Montana and whose accomplishments contribute to the welfare of the state, nation and world. The UM Foundation and the University of Montana present this award to those friends who demonstrate a deep commitment to the University, extraordinary generosity, a distinguished career and a legacy of leadership that has made a significant impact on UM. Recipients are awarded a bronze statue of a grizzly bear, the mascot of UM, sculpted by the late artist and Professor Rudy Autio.