UM Alumna Mary Olson Honored with Bucklew Service Award
Sept. 24, 2021
MISSOULA – Long before embarking on a 30-year career with IBM and prior to her current work with tech giant Oracle, Mary Olson was a girl growing up in Billings wondering how she could ever afford to attend college.

"My wonderful, supportive parents had five kids, and sending us to college wasn't in the cards," she said.

But she did go to college. Olson received a bachelor's degree in business from the University of Montana in 1981, followed by an MBA, also from UM, in 1989.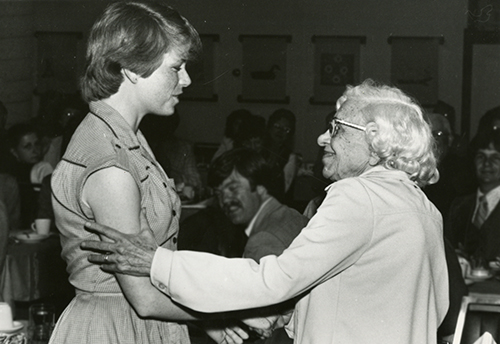 She did it while working three jobs and with the help of private giving.
"My scholarship meant more than financial assistance," Olson said of receiving the Albert Helbing Memorial Scholarship as an undergraduate. "It was an affirmation that someone believed in my success, that I was worth the investment."
Four decades later, Mary and her husband, Greg, who earned an MBA from UM in 1989 and worked over 30 years in wealth management and banking, are dedicated to paying that support forward. They fund scholarships that assist both undergraduate and graduate College of Business students in earning their degrees and launching fulfilling careers.
Since making their first gift to UM in 1986, the Olsons' commitment has remained steadfast. First-hand experience has helped them understand UM's continued need to provide privately funded scholarships to help students enroll and stay in school to pursue their educational goals and launch promising careers.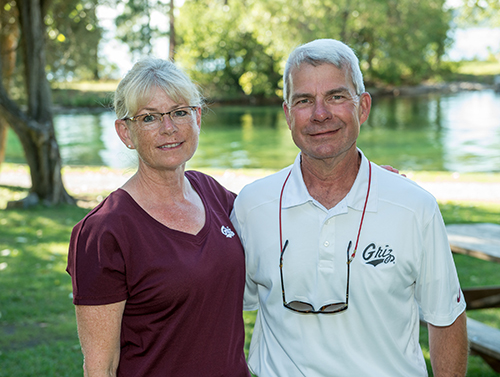 "Our philanthropic goal is to ensure current and future students have the same opportunities we did," Olson said.
In recognition of her passion for helping students, the UM Foundation has awarded Olson the Neil S. Bucklew Presidential Service Award. The award, named for former UM President Bucklew who served from 1981 to 1986, recognizes individuals for their extraordinary effort to deepen Montana's understanding of UM's needs and strengths. It has been given annually by the UM Foundation since 1988.

Olson received the award on Sept. 23 at the UM Foundation's President's Club Gathering. Recent honorees of the Bucklew Award include Summerfield and Julie Baldridge in 2020, Eric Sprunk and Dennis and Gretchen Eck in 2019, Mickey Sogard in 2018 and Michael McDonough in 2017.
Like previous Bucklew Award recipients, Olson has given back to the UM community in many ways beyond financial gifts. From 2008 to 2020, she served the UM Foundation as a trustee and committee chair and led the board as chair during the quiet phase of Campaign Montana, which concluded in 2020 as the most ambitious and successful higher education fundraising campaign in state history. Olson has also served on the UM President's Advisory Board and the College of Business Advisory Council.

Olson's career launched shortly after she graduated from UM, when she helped automate the accounting function at Eastern Montana College, now MSU Billings. The experience helped her realize the potential for technology to change the way organizations operate. She worked for the state of Montana in information technology while pursuing her MBA. After graduating in 1989, she joined IBM, where she held a wide variety of positions that enabled her to work around the globe. Now with Oracle, Olson works with North American research institutions looking to innovate using the company's cloud infrastructure and with K-12 districts and universities applying cloud technologies to enhance education.
"I enjoy my work because it aligns with my desire to improve education and my belief that technology, applied properly, is at the heart of improvement," she said. "I have had an exciting career because technology changes faster than any other discipline and demands that I keep my skills sharp and continue learning."
When she's guest lecturing to UM business classes and mentoring MBA students, Olson generously shares the leadership skills, business acumen and thoughtful guidance developed across her decades-long career with the world's biggest tech companies.
"I tell students, 'I am proud that I've never pursued a job I was qualified for; be willing to stretch yourself,'" she said. "I recommend approaching job opportunities as a way to gain experience, instead of waiting until they have all the necessary skills."
She also advises students to remain flexible throughout their careers and build a mentor network.
"Mary's extraordinary efforts on behalf of UM, the UM Foundation and the College of Business have elevated the University and student success," said Suzanne Tilleman, Sprunk and Burnham Endowed Dean of the College of Business. "She combines knowledge from her career in the global tech industry and her passion for helping students to provide leadership and technological expertise. It is truly special that Mary serves our campus community in this way."
Olson's contributions extend into the broader Montana business community through service to the Montana Association for Female Executives, the Montana Council for Economic Education and the Montana Chamber Foundation.
Her ongoing dedication to UM – through philanthropic support, community service and mentorship – continues to inspire current and future Grizzlies and members of the UM family.
"My passion comes from the fact that UM really changed my life and made it so much richer and fulfilling than I had ever imagined," she said.
To anyone hoping to make an impact, the Missoula resident advises following her approach: "Find what speaks to your heart, and let that guide your actions."
The UM Foundation is an independent nonprofit organization that has inspired philanthropic support to enhance excellence and opportunity at UM since 1950.