UM Alumni Receive Bucklew Service Award
Sept. 25, 2020
Missoula – The University of Montana Foundation has awarded Summerfield and Julie Baldridge the Neil S. Bucklew Presidential Service Award. The award recognizes the couple's continuous support of UM since Summerfield graduated with a degree in history in 1978 and Julie graduated with a degree in social work in 1979.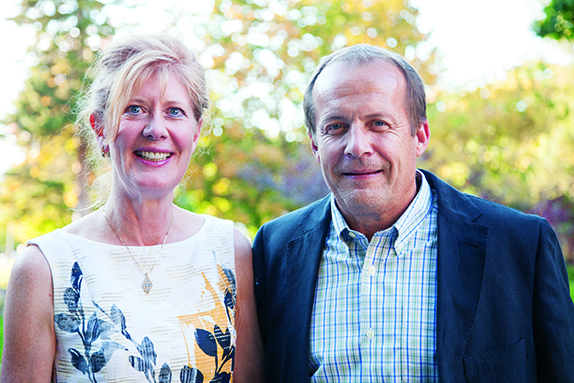 The award, named for former UM President Bucklew who served from 1981 to 1986, recognizes individuals for their extraordinary effort to deepen Montana's understanding of UM's needs and strengths. It has been given annually by the UM Foundation since 1988. 
The Baldridges received the award on Thursday, Sept. 24, at the UM Foundation's President's Club Virtual Campaign Montana Celebration. Recent honorees of the Bucklew award include Eric Sprunk and Dennis and Gretchen Eck in 2019, Mickey Sogard in 2018, Michael McDonough in 2017 and Nelson S. Weller in 2016.
Both Baldridges are Montana natives with deep roots in both UM and the state. Two of their daughters, Maryl and Shelby, also are UM alumni, and Summerfield's father, William Gregory Baldridge, graduated from UM in 1950.
The Baldridges operate Kootenai Resource Corp., a Montana-based natural resource company. Summerfield spent many years as an investment executive. Throughout their careers, Summerfield and Julie have continued their engagement with UM, chairing the College of Humanities & Sciences' Campaign Montana steering committee. In addition, Julie recently completed her second term of service as a member of the UM Foundation Board of Trustees.
Summerfield and Julie Baldridge also give generously to counseling, Irish Studies, clinical psychology, athletics, the humanities and art at UM. The Baldridges are lead donors to the renovation of the Clinical Psychology Center, making a gift last fall in response to the Terry and Patt Payne Family match challenge to facilitate improvements that will allow the center to serve up to four times more clients.
Additionally, the Baldridges supported the David M. Emmons Visiting Professorship in Irish Studies, provide foundational funding for the healthy relationships program in UM's counseling department and are lead supporters of the Neural Injury Center in the College of Health. They also support other areas of UM, such as Grizzly Athletics and the College of the Arts and Media.
The couple actively participate in organizations in their Whitefish community: Julie currently serves on the boards of the North Valley Hospital Foundation and the Whitefish Legacy Partners. She previously served on the various other Whitefish school and civic boards, including the City of Whitefish Board of Park Commissioners.
As we have become involved as alumni, we have seen UM grow in many ways, including student success, program advancement, research milestones and teaching distinction – all while meeting challenges," Julie said.
We are humbled and honored by this award, which recognizes efforts to build the UM and Montana communities through participation in service and giving. It's a blessing to have had this opportunity," Summerfield said.
The Baldridges were recognized with UM's Community Service Award in 2017.