UM Foundation Honors McCammon Family with Bucklew Service Award
September 30, 2022
MISSOULA – The University of Montana Foundation has awarded Don and Donna McCammon, Lillian McCammon and her late husband George McCammon the Neil S. Bucklew Presidential Service Award. The award recognizes the family's continuous support of UM since their first gift in support of the President's Excellence Fund in 1981.
The award, named for former UM President Neil Bucklew, who served from 1981 to 1986, recognizes individuals for their extraordinary effort to deepen Montana's understanding of UM's needs and strengths. It has been given annually by the UM Foundation since 1988.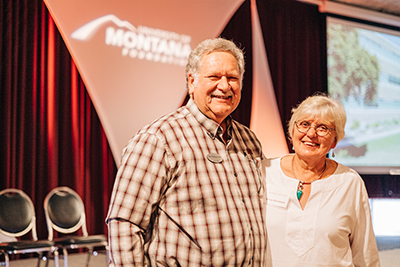 The McCammons received the award on Thursday, Sept. 22, at the UM Foundation's annual fall event honoring and celebrating UM's most loyal supporters. The College of the Arts and Media also honored the McCammons on campus during its homecoming celebrations. Recent honorees of the Bucklew Award include Mary Olson in 2021, Summerfield and Julie Baldridge in 2020, and Eric Sprunk and Dennis and Gretchen Eck in 2019.
Lillian, originally from Warwick, New York, participated in the Aquamaids, the University's synchronized swimming team, and graduated in 1959 with a degree in Spanish and minors in history, political science and business education. She later returned to UM to earn a master's degree. While attending UM, she met her late husband George, who graduated with an accounting degree in 1962. After selling the 2nd Street Texaco Station in Missoula, George worked for the Montana Highway Department until he retired. For 30 years, Lillian taught high school and vocational education in Missoula, Victor and Helena.
Lillian and George's late daughter Barbara Lynne McCammon attended UM before graduating from the John Jay College of Criminal Justice in New York City. She led an accomplished career in the New York City Police Department and the Idaho Air National Guard. In 2003, she was killed in an on-duty accident after being called to service at MacDill Air Force Base Central Command in Florida. As a Master Sergeant, Barbara received the Joint Command's Meritorious Service Medal posthumously, and the IDANG A-10 Squadron awarded her family the first U.S. flag flown over Baghdad for her service. It is in her memory that the McCammons' family fund for the Music Building renovation was created.
Lillian and George's son, Don, of Missoula, attended UM in the 1970s before earning a bachelor's degree in civil engineering from Montana State University. At UM, Don studied history, political science and voice, was a member of the Theta Chi Fraternity, was a leader in the UM Ambassador Program, and sang with the Jubileers.
Don started his career with Burlington Northern Railroad Company before becoming director of operations for HNTB in Denver. Since 1997, he has worked for HDR, an employee-owned architectural, engineering and consulting firm in Missoula. He currently serves as vice president and senior rail project manager for the firm in Missoula and internationally. His wife Donna, from Sidney, worked at Missoula County's Community and Planning Services Department before retiring earlier this year.
The McCammon family, all passionate musicians, are one of three families who have generously made lead gifts in support of transformative renovations to UM's School of Music. The upgrades, which began in spring 2021, are elevating the UM Music Building to align with the quality of academic and performing arts programs that draw undergraduate and graduate students and faculty members to UM.
"After almost 70 years, we are demonstrating to our students that we care," Don said. "We have started providing them with state-of-the-art facilities. This work must continue to create the world-class learning institution our students deserve."
The reconstruction also will help the School of Music accommodate the many professional community musicians who use the facility throughout the year. The updates will support the school's mission to prepare students for wide-ranging careers in music industries, provide a safe and inspiring working space for students and maintain the school's accreditation from the National Association of Schools of Music. Additionally, the McCammons have established music scholarships to honor Barbara and Don and to support UM's woodwind performers.
"As musicians themselves, the McCammons innately understand the power of music to transform lives," said College of the Arts and Media Dean Laurie Baefsky. "They inspire others to make a difference, as they have impacted so many students' lives. They are part of the very heartbeat of music in Missoula."
Don is a member of the College of the Arts and Media Advisory Council and chairs the Music Building Renovation Campaign Committee. From 2015 to 2020, he served on the college's Campaign Montana Fundraising Committee. He sings with the Missoula Symphony and Community Chorales as well as the Mendelssohn Club, and he has performed with the Montana Opera Company. Don also is a former president of the United Way of Missoula County.
Additionally, he served as a director of the American Railway Bridge and Building Association, as chair of an American Railway Maintenance of Way Association's structural design committee, and on the Bridge Committee of the American Short Line and Regional Railroad Association. He serves as a delegate to the United Methodist General Conference and has served as a lay leader for the church's Mountain Sky Conference.
Donna McCammon shares her husband's love for music. She inspired Don to learn the bagpipes, and both have performed with the Celtic Dragon Pipe Band.
"The University has had such a meaningful impact on our family, and music is a big factor in our life," Don said. "We are honored to receive this award and to help UM continue inspiring generations."