UM Alumna Suzanne Peterson Honored With Bucklew Service Award
Sept. 29, 2023
Missoula – The University of Montana Foundation has awarded Suzanne Peterson '78 the Neil S. Bucklew Presidential Service Award. The award recognizes Peterson's continuous support of UM since her first gift in 1984.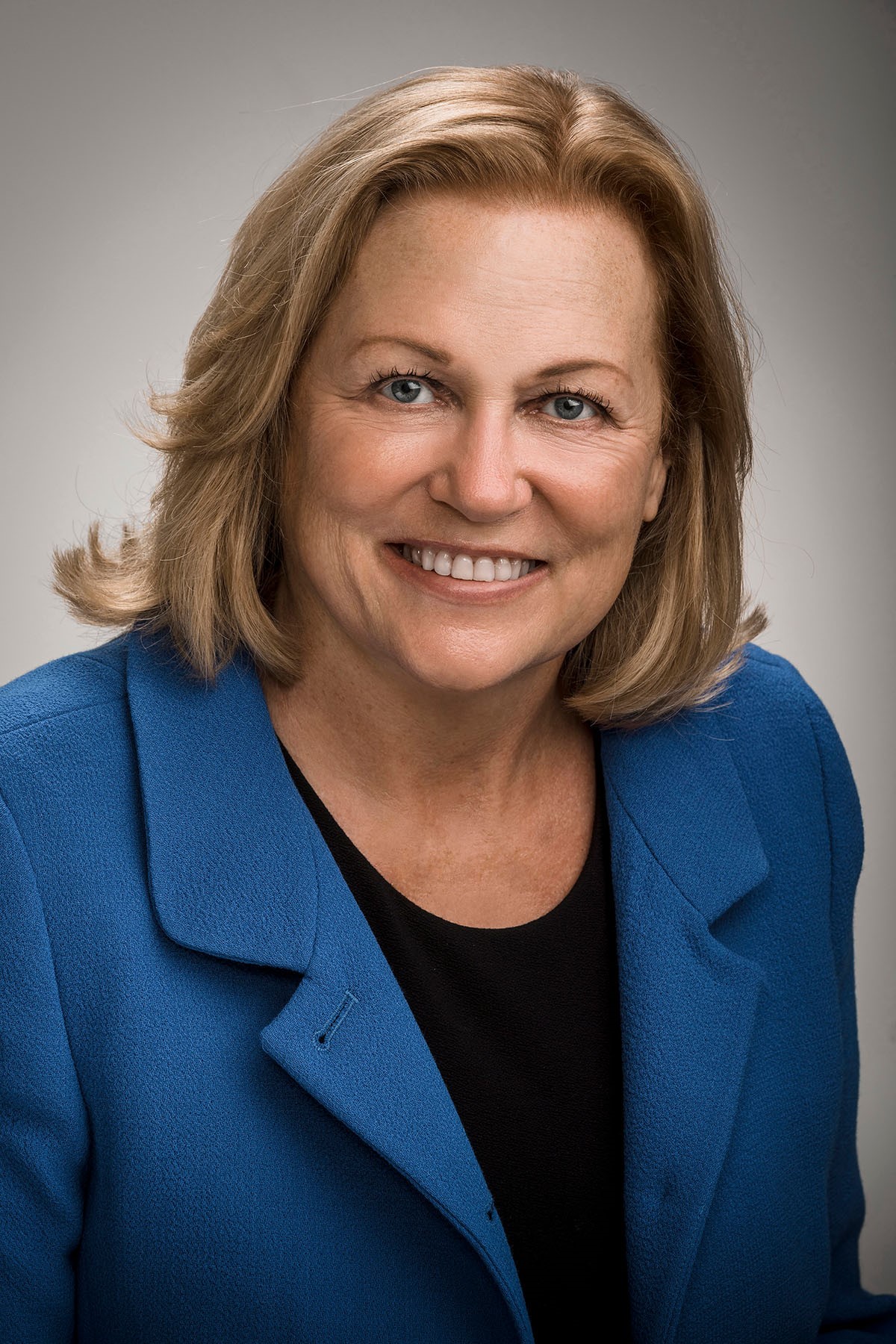 The award, named for former UM President Neil Bucklew, who served from 1981 to 1986, recognizes individuals for their extraordinary effort to deepen Montana's understanding of UM's needs and strengths. It has been presented annually by the UM Foundation since 1988.
Peterson received the award on Thursday, Sept. 28, at the UM Foundation's annual fall event honoring and celebrating UM's most loyal supporters. Recent honorees of the Bucklew Award include Don and Donna McCammon, Lillian McCammon and her late husband George McCammon in 2022, Mary Olson in 2021, and Summerfield and Julie Baldridge in 2020.
Peterson, originally from Butte, graduated from UM in 1978 with a bachelor's degree in home economics. She joined Kappa Alpha Theta, where she made fond memories participating in philanthropic and community service projects, and enrolled in textile and business courses to prepare for a career in business management. After graduating, she managed Wein's Men's Store in Missoula.
Peterson then met her husband Dave, who earned a bachelor's degree in business administration from UM in 1967, and started working at his family's business, Quality Supply, in 1980. Suzanne and Dave bought the Montana-based farm and ranch retailer from Dave's father in 1983, and for 15 years, Suzanne enjoyed managing the company's clothing department. Her role grew to include overseeing the company's human resources department and establishing four stores before she and Dave retired in 2011.
The Petersons are committed to giving back to their alma mater to support students pursuing careers in education. They established an endowed distinguished professorship of gifted education to expand training for future teachers and to enhance research in this area. Their generous giving supports a faculty member at the Phyllis J. Washington College of Education who serves as a specialist in this discipline, making UM the only university in the Northern Rockies to offer a comprehensive education in the field of personalized learning.
"Our future is in the hands of children who UM students will teach one day," Peterson said. "This professorship is a powerful way to impact future generations. All students — not only gifted children — will benefit when teachers are trained to recognize their specific strengths."
The Petersons are also dedicated to ensuring students' basic needs are met while they pursue higher education. They gave to the UM Foundation to create two endowments in the College of Business that will provide funding for faculty research and resources for students facing financial hardship.
"We hope to help students afford unexpected expenses, so they don't have to choose between their essential needs and an education," Peterson said.
Like previous Bucklew Award recipients, Peterson has contributed to the UM community in many ways beyond philanthropic giving. From 2011 to 2022, she served the UM Foundation as a trustee, leading as vice chair from 2016 to 2018, then as chair to 2020. Peterson served on the executive and steering committees during Campaign Montana, which concluded in 2020 as the most ambitious and successful higher education fundraising campaign in state history.
Peterson now serves on the Phyllis J. Washington College of Education Development Council and the College of Business Dean's Advisory Council. She and her husband both serve on the Flathead Lake Biological Station Advisory Board. In addition, Peterson serves as president for the Alpha Nu Education Foundation to raise charitable support for the local Kappa Alpha Theta chapter. Under Peterson's leadership, the Foundation provides up to $12,000 in scholarships to local chapter members each year.
"Suzanne's dedication to the University and Montana communities is invaluable," said Cindy Williams, president and CEO of the UM Foundation. "Her commitment makes a profound impact and embodies the spirit of generosity shared by our giving community."
Williams said Peterson's extraordinary service to UM, the UM Foundation and communities across the state inspires current and future Grizzlies alike.
Peterson has given back to the broader community through service to the City of Missoula Police Commission. She has also served on boards for the Community Medical Center, Missoula Aging Services and the Missoula Chamber of Commerce; Paxson Elementary School PTA; Washington Middle School; and Missoula Catholic Schools.
"We want to help future students enjoy the UM experience we had," she said. "The community helped make our business successful, and we believe it's necessary to pay it forward."
To anyone hoping to make an impact, Peterson encourages consulting with financial advisors and the UM Foundation to learn about support areas and ways to give.
"It's rewarding to invest in causes we believe in," she said. "The UM Foundation helped us match our passions with opportunities on campus and make a meaningful difference."
The UM Foundation is an independent nonprofit organization that has inspired philanthropic support to enhance excellence and opportunity at UM since 1950.